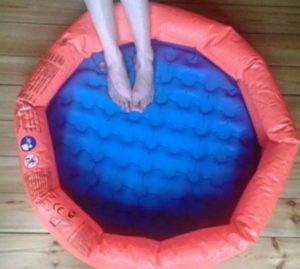 The title was a combination of 'abandon ship' and some sort of 'you can't run away from yourself' reality check. Somehow, 'being human' is what we are stuck with.
Having a child is a most vivid, unbearable emotion…  Irretrievable loss. You cannot put them back in, once they have torn themselves from your belly via vagina or scalpel, they set in motion a certain grief… a slow, life-long, death-looming loss. They leave you and leave you and leave you.  And that is your job. To help them do just that.
The love is so strong that you can deal with their shit, their piss, their selfishness and their hatred… of you.
Katie and Sharon have daughters. It's a woman thing. They have shared a friendship that has grown into family feelings over twenty years. This work seemed to explode all that, all those… feelings… all over the stage.
The soundtrack contains the action, haunted by female song writers who we love shamelessly and who we want to be in the room with us. There are others, but of course there is not enough space or time in one room (however grand) to include all the awesome women who wrote songs that speak through us and to us, in the work… in the life.
Our raw materials are played loose in the performance setting without a lid on how it will evolve performance to performance.